The legend that is
Oliver Postgate
is sadly no longer with us. The creator of iconic children's television shows Bagpuss, Ivor the Engine and The Clangers died on Monday evening.
There are literally thousands of sites on the web extolling the virtues of his work with Peter Firmin and decrying the current state of children's television so for me to join in would seem a little pointless.
What's been incredible, though, is the sheer number of (virtual) column inches devoted to the life and times of a man who, I discovered on reading his marvellous autobiography, Seeing Things, a few years ago sort of accidentally fell into making films for television. And hasn't the world been a brighter place for it?
In the four or so years since we've had a solid fuel stove, rarely have I opened the door to fling in another log or scuttle of coal without thinking of "Jones the Steam" from my personal favourite, Ivor the Engine...there he is, look.*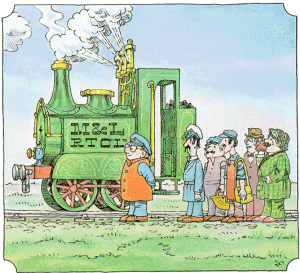 When I clicked "
News Results for Oliver Postgate
" in Google, I was staggered by the number of entries, particularly the diversity of blogs marking his passing. I think he would have been pleased. to be remembered for the colour and joy he brought to people's lives. The top left hand corner of Wales will be forever in our hearts.